Corn Creek Campsites & Amenities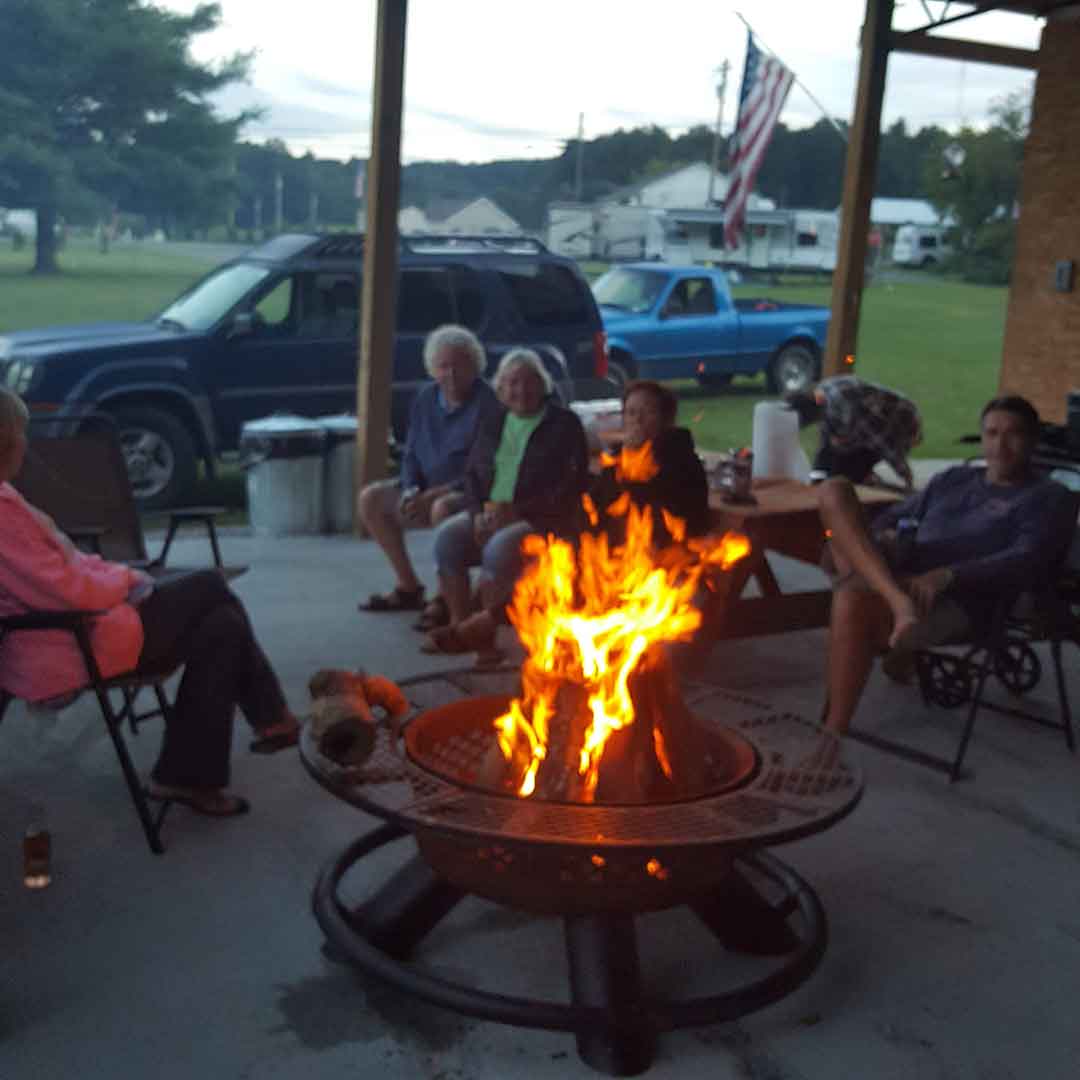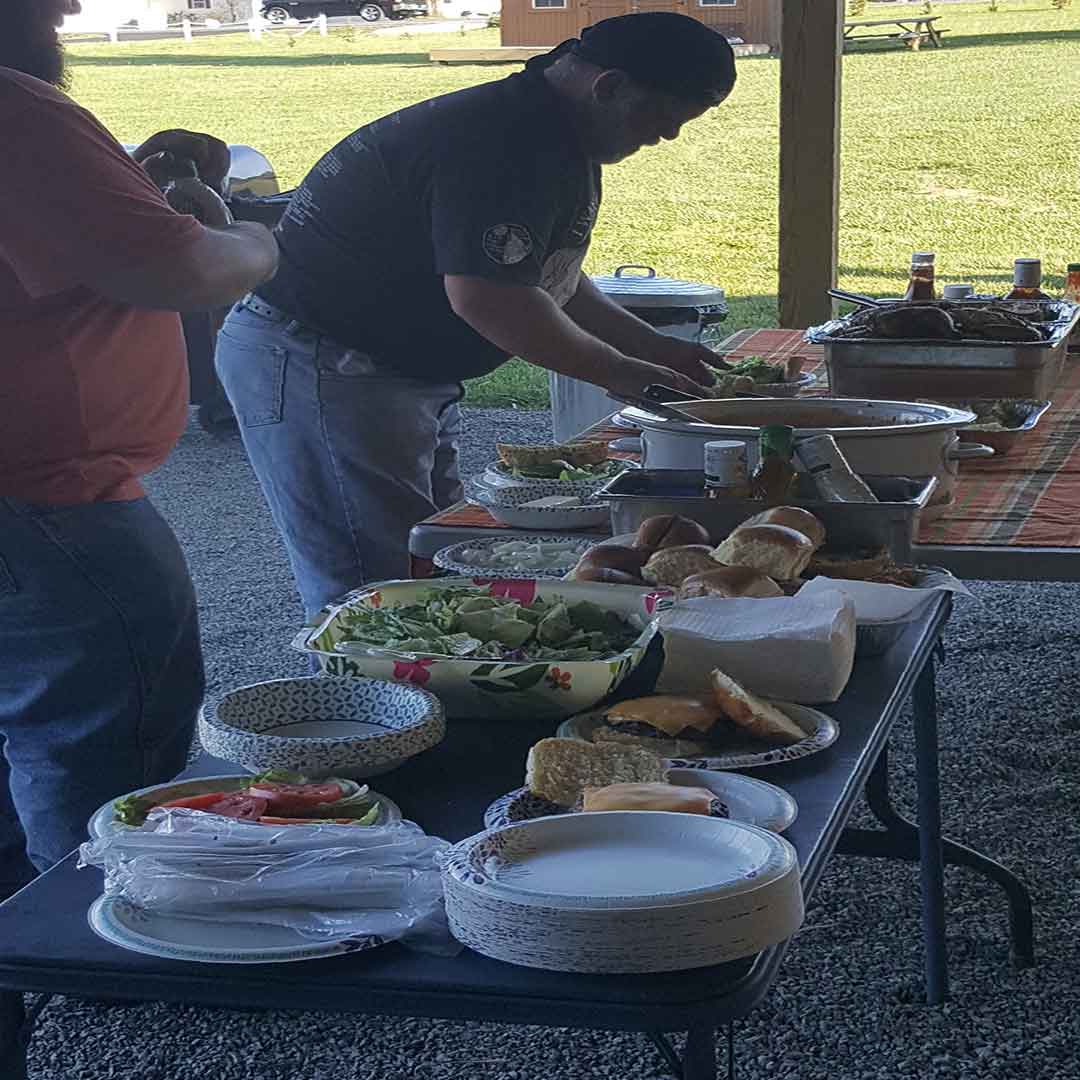 We currently offer (11) full service campsites offering water, electricity, sewer and WiFi service. We also offer (1) small cozy cabin with water, electricity, sewer and WiFi service.  Whether you are tent camping, have a small camper, a luxury camper or RV, you are invited to stay and enjoy our mountain campground. We have (7) campsites with 50 amp electric service with individual electric meters allowing you to use as much electricity as you wish, since electricity costs is in an addition to RV campsite costs. We also offer (4) campsites with 30 amp electric service. Our camp ground is laid out to provide easy access to all campsites, making for an easy in and easy out scenario. The layout also allows privacy for each campsite and direct access to community areas. We have four creek side campsites for those wanting water front camping on the creek.
All of our campers have use of all of our common amenities. These include a new clean bath house, an amply stocked Camp Store, a covered pavilion with picnic tables, a creek side deck with rocking chairs, a large community fire pit and access to the common creek side area.
---
Rates and Camp Site Amenities
Campsite Type

Campsite Amenities

Community Amenities

Price Nightly

Price Weekly

Price Monthly

Tent (primitive)

Camp Site (4) people for base price

$5 extra per person for more than (4) people

Access to all

$15.00

$75.00

$200.00

Camper / RV's 50 amp

Camp Site /

Sewer / Electric / H20

Access to all

$30.00
plus electric

$150.00
plus electric

$400.00
plus electric

Camper / RV's 30 amp

Camp Site /

Sewer / Electric / H20

Access to all

$30.00
includes electric

$150.00
includes electric

$425.00
includes electric

Cabins

Cabin (12 x 20),

Sitting area,,

w/couch bed,

Kitchenette,

½ Bath,

Queen Bed,

Loft Sleeping Area

Access to all

$60.00

$500.00

$1000.00

Bunkhouse

Sleeps up to 6 persons

Access to all

$20.00
per person

$100.00
per person


Call For Pricing
Campground Amenities
We are a small comfortable Camp Ground offering some nice amenities that are available to all of our campers. We have tried to provide you with the things that we like available when we travel and stay in other campgrounds. We know that a good base camp is important when you are vacationing so that you have a nice place to relax after your day's activities. We hope you enjoy these amenities as we strive to provide you a good camping experience.
---
Camp Store
We offer an amply stocked onsite camp store for your convenience. It provides your basic camping needs at a fair price. Our inventory includes things such as fire wood, ice, charcoal, lighter fluid, rain ponchos, sunglasses, hats, t-shirts, cooking utensils, and basic food staples such as water, bread, milk, drinks, snacks, bacon and eggs. There are also many close by choices for shopping for the items that we do not provide.
We provide area information including small maps, brochures and restaurant menus. We have a huge map on our wall showing the area's hiking trails, waterfalls, parks, lakes, scenic highways, and other natural resources. We also have maps of many of the areas chartered Motorcycle and Sport Car Routes. We are also an Official Information Center for the world famous "Snake 421" Motorcycle and Sport Car Ride.
---
Bath House
We have a nice new clean bath house available for all of our campers. We offer two full bathrooms including large showers and dressing areas. It is more than adequate for accommodating a full camp ground and is kept clean for your needs.
---
Covered Pavilion  
Our Camp Store has a covered pavilion overlooking our camp ground. The pavilion provides great shade and picnic tables available for your use. Enjoy your food and drink or just hang out with your friends.
Creek Side Deck
Our creek side deck known as "April's Back Porch," is a great gathering place to sit back and share your day's adventures. Enjoy our rocking chairs over looking the creek as you relax and listen to the flowing water. This is a nice piece of heaven with a beautiful mountain back drop.
---
Creek Side Access
We are fortunate to have a creek running along the complete back of our property.  All campers have access to the creek side common area. It provides plenty of area to have some privacy, throw a fishing line or just enjoy with your friends.
---
Community Fire Pit    
We have a large community fire pit available to all of our campers.  It is a great area to relax by a nice fire, do some star gazing and take in the cool mountain nights. This is where new friends are made and old friends become closer. For those preferring their own fire at their camp site, we have complimentary fire rings available for your use.
---
Dump Station
We have a dumping station available for all of our campers. It is conveniently located in the middle of our campground near the front of our store and pavilion. Our campers can dump their sewage here and garbage. There is also a water pump available at the dumping station.